Thursday 9th October
We awoke to an ominous sign. It was windy, from the south west. Paddling out the bar at Brunswick Heads the wind was about 12 knots almost straight on. "Not to worry," I thought. "It will be almost behind me as I curve around to Byron Bay."
Unfortunately the wind followed me around and stayed head on all the way. My speed dropped from 7.5km/hr to 4km/hr as the wind strengthened to over 20 knots from the south-south-east.
We had planned to come in at The Pass and then paddle down to Ballina but at 10.00am it became obvious that I could not reach The Pass for the 11.00am appointment. Plans were changed and I paddled in at the Main Beach with Channel 9 filming. They then filmed the wheels and the harness as I set out on foot for Ballina.
By the time we arrived at Lennox Head the wind had gone SE and dropped to about 15 knots but we elected to keep walking. The guys had talked to the Byron kayak shop and he said, "Don't even think about attempting to paddle to Ballina." At Lennox we stopped in to meet the Geolink team. They have been good enough to give me a bit of work so they feel a bit like family. Craig Zerk (director) and I were at the NSW Institute of Technology together. The last class we did together was maybe 1976 which is not that long ago really.
At 5.00pm we met Jeff Johnson from the Greens at Ballina plus Barry Cheadle from the press. Barry reckons the story he ran a week or so ago was one of the most looked at stories in a long time.
At Byron we had a good chat with Giovanni Ebono. When you do the right thing you never know what will come out of it. This contact, made from the trip, may well be the route to publishing my book. This is a bit philosophical, but I have always found that you just keep putting the effort into an organisation or a cause, and in the end you will get more back. Whatever happens, it has been good to meet Giovanni as we seem to think the same about important issues.
Just after Brunswick Heads there was an indication of what was to come. A trawler came into the bay and stopped. That was when I realised that plans may be changed. He obviously had a reason to pull into the bay so I guessed outside was not too flash at the time. At about that time I watched birds diving on fish. One seemed to dive right onto the back of a shark. I have no idea what that was all about but it was the second shark in two days. Maybe I will get used to this. I hope so, as I cannot help but worry when I see one. I keep telling myself a real man would not worry like that.
Day 6 Photos

Towards Byron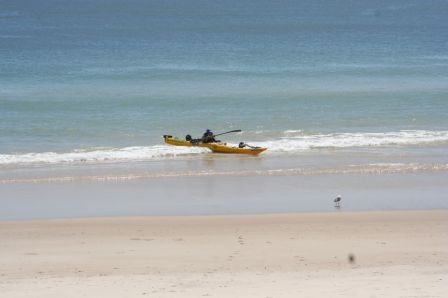 Byron Beach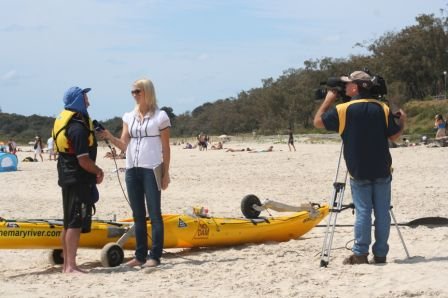 Channel 9 at Byron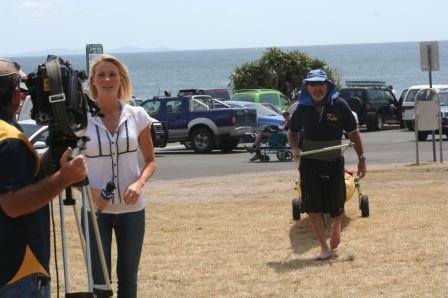 Media tart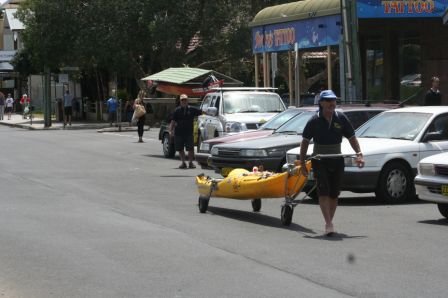 Through Byron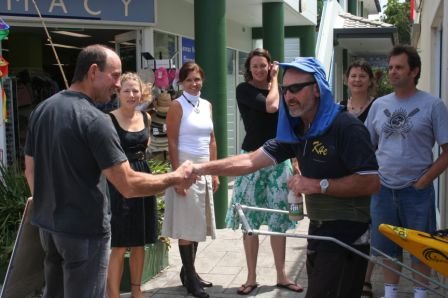 Geolink Lennox Head - How fit does Craig look!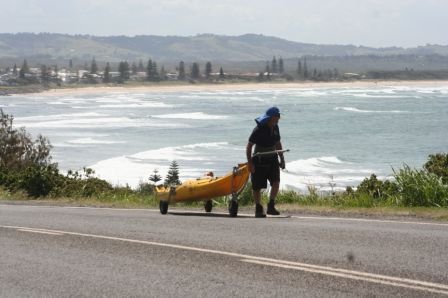 Leaving Lennox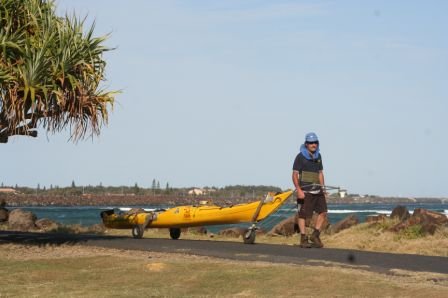 Arriving Ballina