I'm still here, still working on climate  emergency, but I'm also working on a book about the trip. The last book was like a diary, a yarn about what I saw that might be useful as a snapshot of the situation sometime after I die.  This new book follows not only my physical journey but also my personal journey with all its trials and tribulations.
There will be lots of editing but below is the foreword as it stands at present. The title is "Paddling to Paris" but it's not quite right. I need a brilliant mind, like Merry from Newcastle who gave me "Cry Me a River" last time. So help me out please, hit the contact button and let me know what the title should be.
Cheers, Steve
My brother reckons I am fearless. He is wrong. I know fear. It is what you do with that fear that makes the difference. Huge seas off the Australian coast had not fazed me. Burning feet from searing temperatures in Australia were just a part of the struggle. Fog in the Gulf of Mexico and freezing winds in New Orleans provided the introduction to the USA. Day after day of drenching rain while dragging the kayak around more than a hundred locks in England, a bouncy trip across the English Channel and a chilly screech down the French coast added excitement to the adventure.
That was the physical journey. If only that had been it. A decade of battling for acceptance of climate science was much harder. Battling against indifference, hostility and obstructionism sucks one's optimism away like the inexorable draining of a bathtub when the plug is pulled out. No matter what one does, it is never enough. No matter how dire the situation, media would rather talk about a politician's eyebrows or the latest diet. No matter how stark the facts, the media and politicians treat them as irrelevant. Climate change is not a scientific problem, if it were it would have been solved decades ago. It is a psychological problem and most of us, especially an engineer like me, are ill-equipped to tackle that. Learning to accept these realities was a more painful journey than physically battling up a swollen river.
At no stage in any of my trips, even in the most dicey of situations, was I afraid physically. I am afraid, deeply afraid of what seems to be the inevitable future. Afraid not for me, but for my kids, their kids, for the poor, the weak, the battlers. I am afraid for the billions, the majority, that will bear the brunt of our leaders' inaction.
And yet, I have hope. If you can motivate people, anything is possible. To do that we need real leaders, leaders who can articulate the problems, who tell the truth no matter how confronting, and who can show the way forward. The path to avoiding disaster was easier three decades ago but it has become progressively harder each year that we have failed to act. Now it is hard, very hard. The good news is that all the tools are there. We have every technology we need to solve the problem but we need leaders to inspire us to pick up those tools and use them.
Click on the poster below if you have not already signed.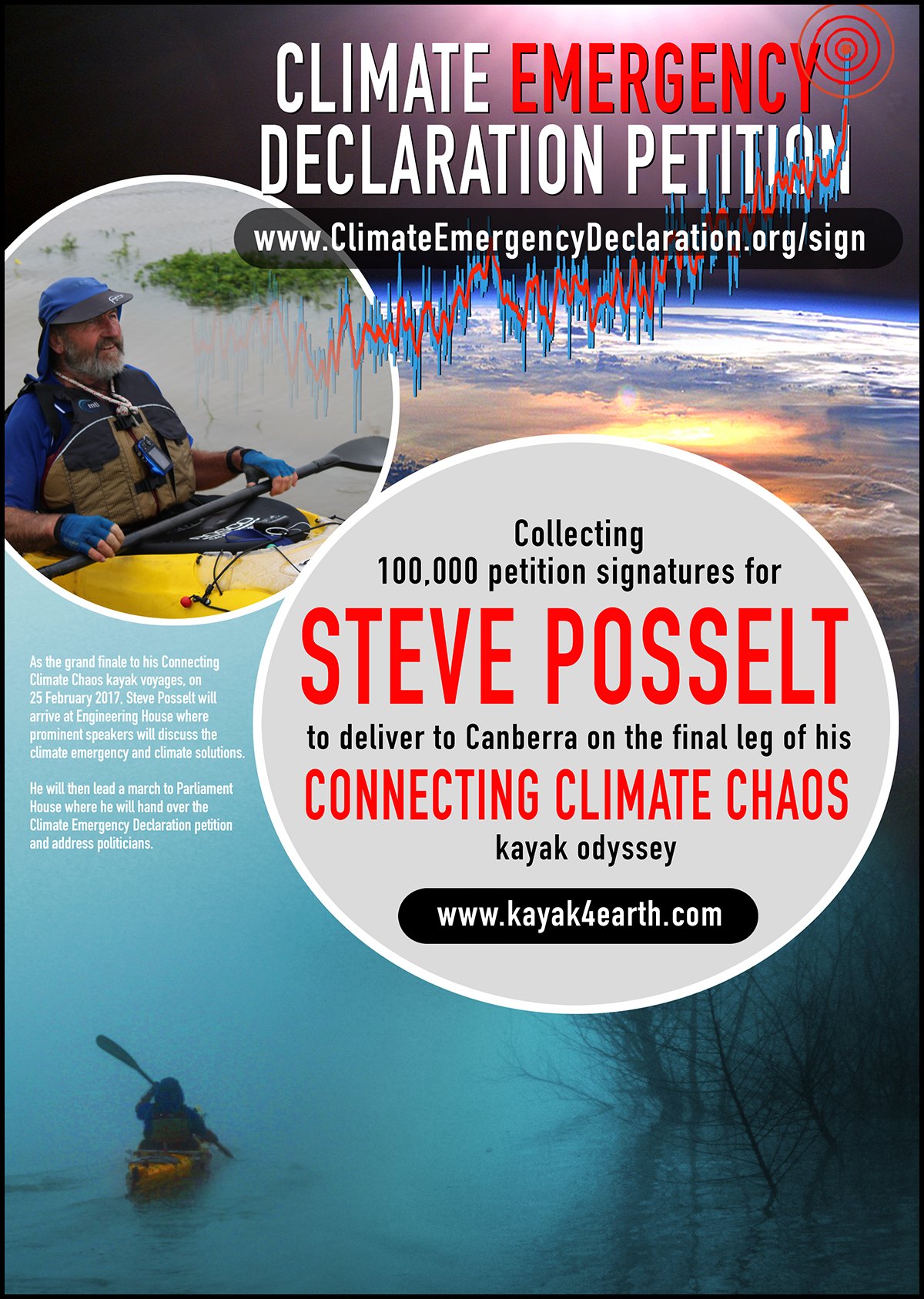 I thought my journey was over at Paris but it wasn't. If absolutely everything promised at the Climate Summit is achieved we might limit global warming to three degrees. Three degrees means no Arctic or Antarctic ice, no glaciers and very likely no humans.
This is real, happening at present and for people under 20 now the effects could be catastrophic, not just the wild weather we are experiencing with just one degree of warming.
This is an emergency and we need the science to be taken seriously by all governments
On New Years Day 2017,  I brought out Old Yella for one last time to paddle from my home in Ballina, where I recuperated from the gruelling Paris journey, to Canberra. The paddle was 1150km down the coast to Moruya, then turn right and drag  Old Yella 180km up the hill to Canberra.
Groups in towns along the route  collected signatures on the Climate Emergency Declaration petition for me to deliver to Canberra, along with the signatures being collected via the online version of the petition. Please help reach the target of 100,000 signatures by signing online at The Climate Emergency Declaration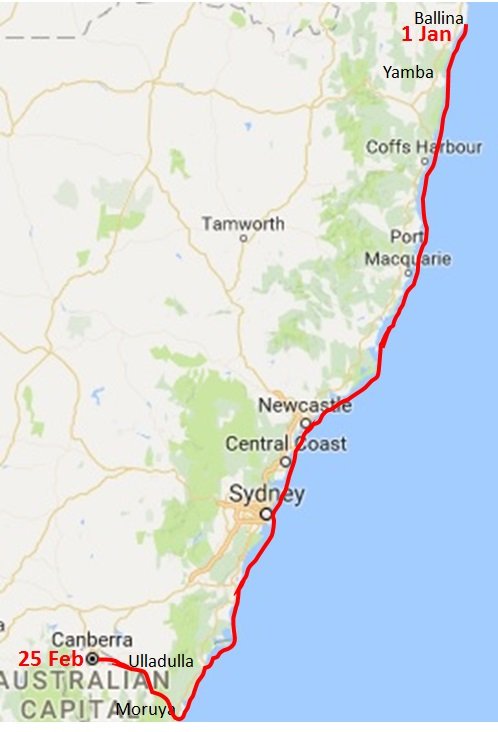 – See more at: http://climateemergencydeclaration.org/kayak/#sthash.8dM5CmI7.dpuf