Saturday 4th October
The sendoff was really great. Channel 7, Channel 2, Channel 9, Sunday Mail, lots of endangered species, locals, STMR Brisbane, STMRCG, Greater Mary Assoc, friends and Hashers. Adam DamOn was a brilliant highlight. Vikki should be well pleased with herself for organising such a great event.
The letters bag only just fitted into the hatch so as we get more they will need to go in separate plastic bags.
A colourful flotilla of kayaks was on the water as we set off. Some struggled against the current, some stuck with it to Victoria Bridge and Glenda used the opportunity to stamp her initials on the spare kayak to paddle into Sydney at the end.
We saw Channel 2 in the evening and were impressed with the footage, but missed channel 7 because I did not get into Wynnum Creek until after dark.
The Sea Shepherd - Steve Irwin was moored near the Gateway Bridge which was inspirational. Slogging against the wind and waves I could picture it taking on the whaling fleet in much more dangerous conditions than I would see.
It was a long bash down the river with 25 knots on the nose near Fishermens Island. There were white caps everywhere, the waves bounced the kayak up and down and it was very wet. Cutting across to Wynnum I cheated a bit too much and finished up stuck on the mud which I guess served me right.
John Schulstad turned the lights on in the support vehicle to show me where to come in. Without that I would have struggled across the mud in the dark.
We stayed with Bryce and Jenny Jones just up the hill and had my first night sleeping like a log. The distance was 30.4km in difficult conditions and it was only an afternoon so we are all pleased with that. Most days we should do better than 50km.
Although paddling was hard my hands held up well so I am hopeful of avoiding blisters while they toughen up.
It was a tired but happy crew that hit the sack.
Day 1 Photos

The launch and kayak flotilla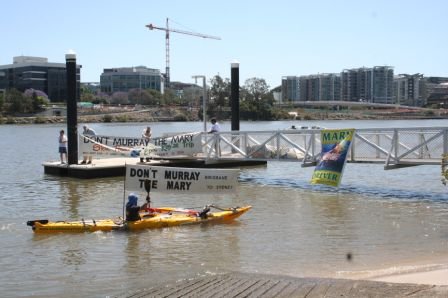 At the end of the day