Saturday 18th October
The road to Point Plommer is dreadful so we drove up the beach instead. That meant that we could not get around to the bay to leave. In one way it saved time in that it cut more than a kilometre off the trip but it did make for an exciting departure through the surf.
Have a close look at the picture of the dolphins. There is a surfer behind them and part of a surfer on the left. It is always better when there are no surfers because surfers usually mean surf. Despite the swell, which was not big anyway, the day was perfect.
Halfway down the beach the north easter sent a few zephyrs in, and by the time I got to Port Macquarie it was starting to build. We had arranged to arrive in the river at 11.00am so I pulled into Town Beach near the wall at 10.00am to wait.
There was not much swell near the wall although there was a surfing competition just along the beach. As I came in a larger wave formed behind me. Letting it slide underneath I started paddling furiously; too furiously. The kayak passed the wave and it threw us onto the sand. This was all fine until I hopped out, the kayak got sucked back into the sea, turned over and the ocean was strewn with its contents again. Bugger. That's life though, so we collected the bits that were not tied on and dragged it all up the beach to dry out.
The new plan is that when I come into places like that I will stay in the kayak with the skirt on until a crew member can grab the bow. It will be a lot less expensive.
The GPS was obviously excited about its roll in the sea and reckoned on 51km for the day. We scaled it off the map and have logged 44km.
We finished at Camden Haven and came home to the camp site at Port where I had a nanna nap. John W is cooking tea now and despite my nap I am ready for bed. It is not yet 8.00 o'clock but we are planning a big day tomorrow to try to get to Forster before the south easter hits on Monday. 11.00am into Tuncurry Forster is the aim.
The picture of North Brother is to show how dominant it is. I could see it from Point Plommer. In fact, on a clear day, from the top you can see from Crescent Head to Forster which has to be well over 100km of coastline.
Day 15 Photos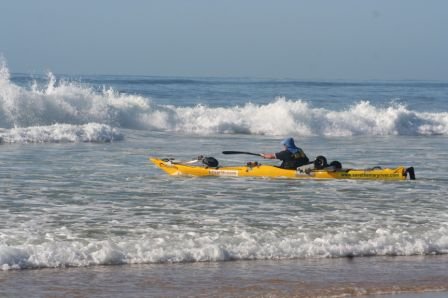 Leaving Pt Plommer

John S crosses his fingers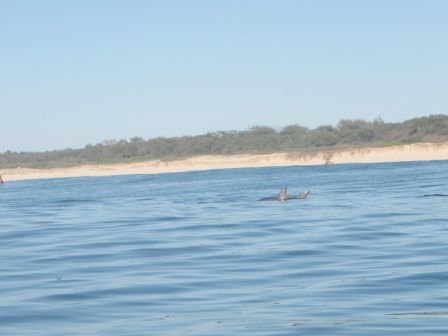 Dolphins and surfers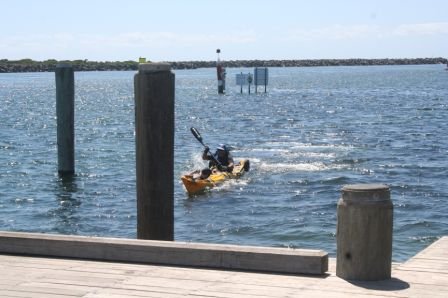 Port Macquarie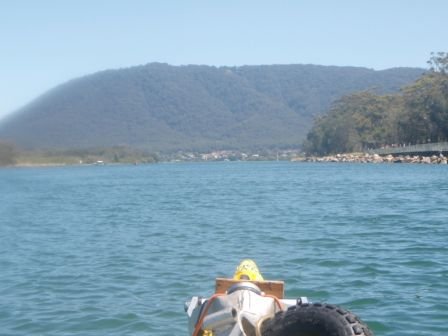 North Brother