Sunday 19th October
Thirteen degrees this morning. That's one more than yesterday. Cool westerly blowing and we hit the water at Camden Haven at 7.45am. Paddling between the breakwalls the wind started from the north. This was good, although it could maybe build to be a bit too strong.
Just before Diamond Head I heard a motor behind me. I raced it for half an hour before losing the battle. It was the South Passage from Brisbane. Although the wind was directly behind us the sails were all close reefed and she was motoring. Watching her course over the next half an hour was like watching a drunken sailor so I figured out why she was motoring. The helm was obviously under the control of inexperienced people and had they been sailing they would have jibed often. This could have been dangerous and expensive on gear so it was understandable what they were doing.
At Crowdy Head there was no response from the crew on the radio. At Harrington there was still no response. The waves were breaking everywhere I could see at the bar but I thought I should go in. Just as I was about to have a go, the radio called "K4e". Phew. We made plans for me to continue and I paddled out to sea for about a kilometre until the sea settled down again.
Down past Old Bar there were lots of whales but I didn't get a photo of them. Out of all the shots I took all I got were some blurred tails and some white water.
One surfaced less than 3m just behind and to the port side. The first I knew was the noise of it blowing. To say it scared me is an understatement but I was teaching it some good Aussie vernacular.
The sea was on the limit of what the kayak can cope with. It was right full rudder 90% of the time but still many slews to the left with waves washing over the deck.
The entry into Hallidays Point was smooth with John S catching me to avoid tipping over. Mostly my timing is OK but there have been notable exceptions. Daily log: 60km. We are all pretty happy with that.
Day 16 Photos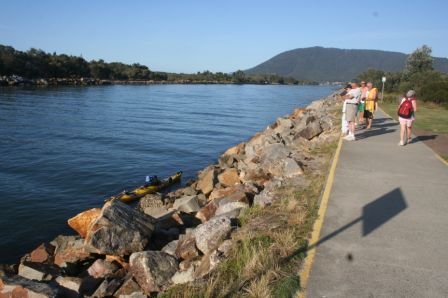 More signatures

Camden Haven Head

South Passage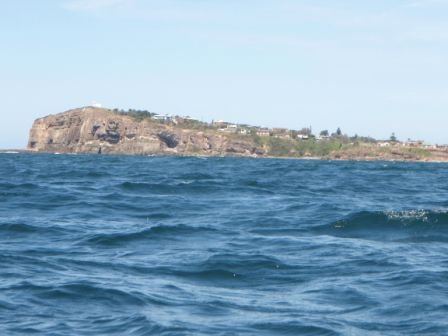 Crowdy Head

Whales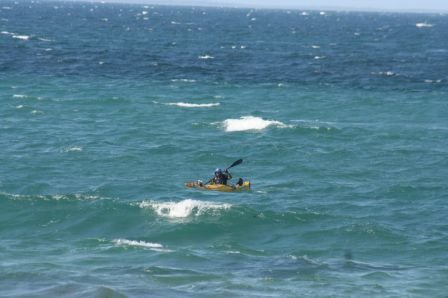 Choppy seas

Hallidays Point

Timing is everything

Got it right

Catcher Schulstad