Sunday 26th October
Conditions were perfect for the last day at sea. There was a light northerly. At Barenjoey Head there were divers, fishermen and boats all over the place. It was a bit lumpy passing near the rocks indicating some swell around.
After Barenjoey there is Palm Beach, Whale Beach and then a headland that sticks well out. Rounding that I could see North Head but Long Reef blended into the background and it took another 10km to distinguish it properly. I had forgotten the camera and the guys kept arriving at observation points after I had passed. Result: no photos until Manly. As I paddled 30km in four hours the sight of the finish must have spurred me on. It also could have been the worry of a 25 knot wind.
About 10.00am the boats disappeared except for three keen ones still off Long Reef. That was when the wind picked up to around 15-18 knots from the north east. That is typical for a sea breeze but early. It can indicate thunderstorms or just a stronger blow in the afternoon.
The land disappeared behind many of the swells. My eyes are only half a metre off the water but the cliffs and hills are quite high so the swells were building. The waves look a bit scary from the front but they just roll along underneath. If they break my reactions just compensate, and I just get wet up to the armpits but without the sail the kayak does not seem to risk tipping over. It had been a good decision not to use it at sea after the debacle off Burleigh Heads.
Coming into Manly the beach is at an angle so I aimed for Fairy Bower and pulled into the shelter of Shelley Beach. The trip total so far is 931km with just a couple of hours paddle up the harbour to finish next Saturday.
The body feels really tough and fit, sort of unbreakable really. With no days off in the last three days though, a day off seems like heaven.
Driving home we saw some VW owners who had a major problem but there was not much we could do to help.
Day 23 Photos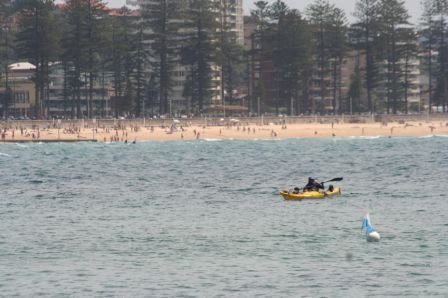 Arriving Manly

Maybe I can have a rest now

Driving home