Saturday 25th October
The cool westerly wind was fraying the tops of the waves on The Entrance bar. Between the sets it was just possible to get out but being old and wise, the team decided it was too risky. We retreated to yesterday's pick up point and I headed for the southern end of Tuggerah Lake where Tumbi Umbi creek flows into the lake.
A couple of fishermen pointed out where I was to go. It didn't seem right to me and the bearing was wrong. When I got to the creek we established on the radio that the crew were at the footbridge at Tumbi Umbi creek and I was at the footbridge on some other creek. It added a couple of kilometres to the paddle but we eventually sorted it out.
The creek petered out in less than 2km so it was onto the road for 15km to a creek near East Gosford. John W walked this leg as well but he had to stop at a chemist to replenish his bandaids. John S reported that we would go past NBN studios and he advised them about the trip. They sent a cameraman out who did some filming on top of Brooks Hill and we got an interview in about the lungfish etc.
The north easter had blown up by the time we got to Brisbane Water and it was an easy paddle from there across to Woy Woy. Through the rip, a battle with waves on a sandbar at the Broken Bay entrance and I was into Pearl Beach behind Lion Island.
Today was 42km so we have now passed 900km. Tomorrow we should get to Shelley Beach at Manly where we will stop until the big finish. I will drive John W back to Alstonville and John S will stay with his sister, Lynn in Sydney. We are actually staying with her and her husband Glen, at Toukley last night and tonight, so that all fitted in really well. Seems like Schulstad has rellies everywhere and they are all great people.
Probably no update until Monday. There will be a section on Engineers Media loaded up next week and of course the finish will be added. We will confirm what is happening by Thursday and it should include details of a UTS reception Saturday afternoon.
Day 22 Photos

Getting ready

I can't see a creek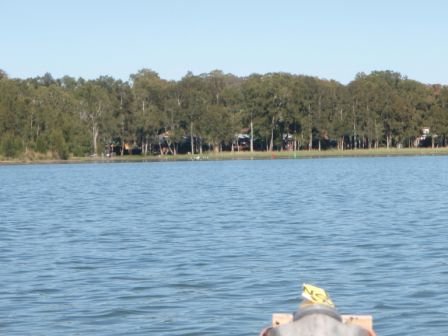 It is well hidden

Aahh, this footbridge

Look what's on the hat

That's John W at the back

NBN

Brisbane Water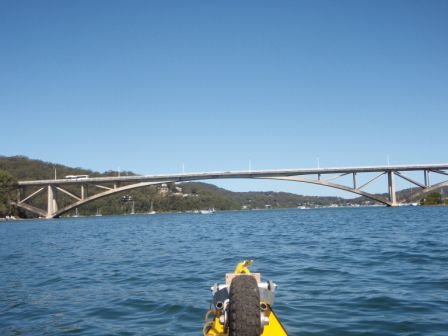 The Rip

Lion Island and Barenjoey Head