From Echuca to Melbourne - Aug 1-16
The Murray Darling is a national crisis.
70% of Australia's fresh food, and one third of our wheat are grown there.
Draining a wetland in Queensland affects farmers in NSW and schoolkids in Adelaide.
The river is dying from the mouth up.
Follow Steve on his journey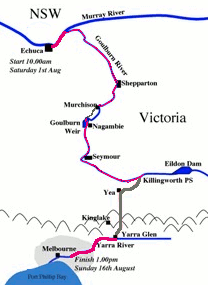 This section of the website provides daily updates of Steve's progress up the Goulburn River.
Steve's progress
| | | | | | |
| --- | --- | --- | --- | --- | --- |
| Day | Dest | Paddle | Walk | Day | Trip |
| 1 | Lower Goulburn | 33.8 | | 33.8 | 33.8 |
| 2 | Lower Goulburn | 39.8 | | 39.8 | 73.6 |
| 3 | Lower Goulburn | 35.9 | 1.5 | 37.4 | 111 |
| 4 | | 35.3 | | 35.3 | 146.3 |
| 5 | Shepparton | 33 | | 33 | 179.3 |
| 6 | Talburra | 36 | | 36 | 215.3 |
| 7 | Goulburn weir | 28.2 | 14.5 | 42.7 | 258 |
| 8 | Near Seymour | 37 | 1 | 38 | 296 |
| 9 | Hume & Hovell crossing | 28.1 | | 28.1 | 324.1 |
| 10 | Landscape | 25 | | 25 | 349.1 |
| 11 | Killingworth | 23 | | 23 | 372.1 |
| 12 | Glenburn | | 36.3 | 36.3 | 408.4 |
| 13 | Yarra Glen | | 30.7 | 30.7 | 439.1 |
| 14 | Warrandyte | 49.4 | | 49.4 | 488.5 |
| 15 | Dights Falls | 42.8 | | 42.8 | 531.3 |
| 16 | Federation Square | 15.6 | | 15.6 | 546.9 |